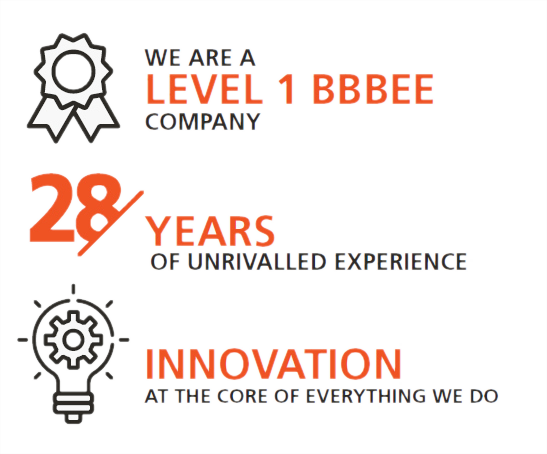 BACKGROUND
Hy-Core Power Solutions was established in February 2019 and operates out of modern facilities in New Germany, Durban. We are focused on Distribution, Engineering, Design, Manufacturing, Servicing and Repair.
Hy-Core Power Solutions has the Technical know-how and experience in hydraulic equipment utilized in all spheres of industry. We have invested in the Latest Technology, Equipment, Software and Training, much of which is tailormade for our requirements and endeavour to uphold this in years to come.
Hy-Core Power Solutions is a proud level 1 B-BBEE Compliant Supplier with a 135% Recognition Score and is also in the process of becoming ISO 9001:2015 Certified.
We are involved in many community driven up-liftment programs and recognise a need for Supplier and Enterprise Development as a whole.
We as Hy-Core Power Solutions, recognize that without customers, we would not have a business and the customer is accordingly, the reason for our company's existence and our employment.
We totally commit ourselves:
 To create a relationship with our customers and suppliers that is mutually beneficial, and to provide exceptional quality products and services adding value to our customers.
 To identifying with our client's needs and to provide technical support and design services. Keeping up to date with supplier and customer technology.
 To continually improve the effectiveness and efficiency of the QMS to ensure that high standards are achieved in providing the exceptional quality of products and services.
 To ensure that any outsourced service providers affiliated with Hy-Core's product practices the same care in

providing quality products and service.

 To ensure that Hy-Core employees performing work affecting the product are competent based on the

appropriate training, skills and experience.

 To ensure that proper communication methods are maintained to conform to the requirements of the ISO

9001:2015 standard.